This is the strat that makes the most sense to me. Even in the BK video, the narrator says that the tanking in the middle all together is NOT normal and the "correct" way to do it is as such:
Phase "2" locations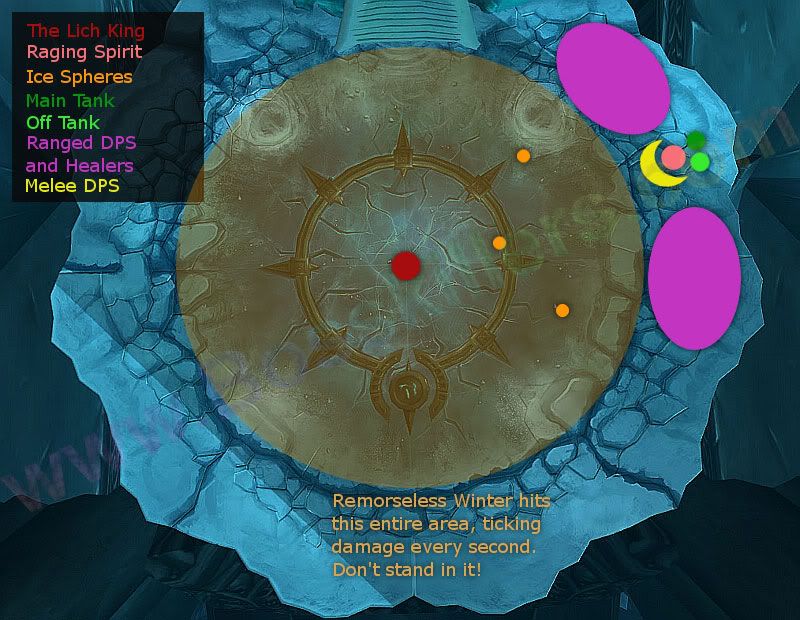 Just a note from P2 as well that we really NEED to do....
Quote:
Sometime before the second Raging Spirit is summoned, the Shambling Horror should die to Necrotic Plague damage. When this happens, the disease will jump to the OT, and the assigned dispeller should immediately cleanse it. Since there won't be anyone else within range for Necrotic Plague to bounce onto, it will simply disappear for the remainder of the encounter, leaving the OT free to rejoin the rest of the raid. The OT should then be available to pick up the second Raging Spirit when it appears, again facing the mob out over the edge of the platform. If the OT hasn't been able to safely rejoin the raid before the second Raging Spirit is summoned, the MT will have to pick up it up, and tank both until the first one dies. This is because you don't want Necrotic Plague to bounce to a Raging Spirit. If it did, the corresponding stacks of Plague Siphon wouldn't fall off of The Lich King before Phase 3 starts, making the most difficult phase of the encounter even harder.
Phase "3" locations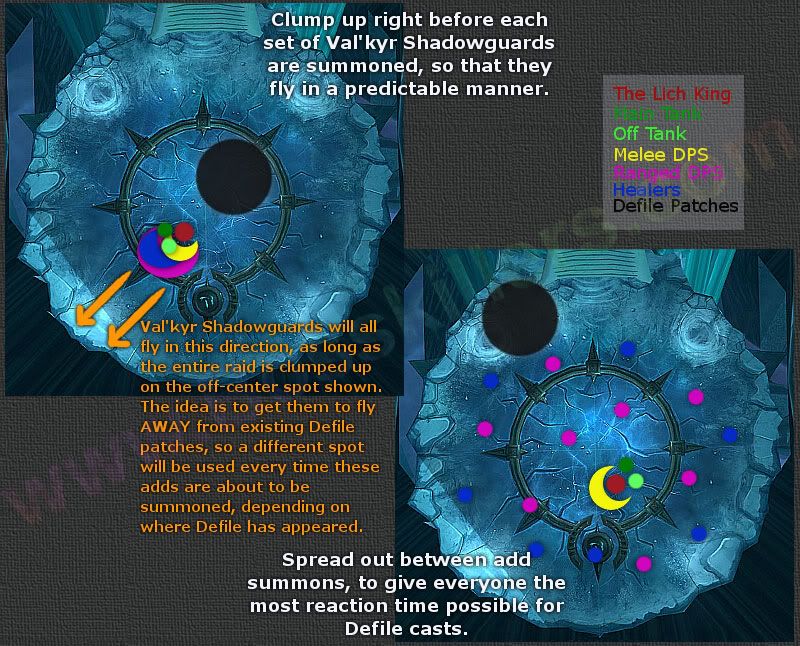 Note:
Quote:
Equally important to planning and understanding this phase's positioning is having a plan in place to ensure that all Val'kyr Shadowguards remain slowed and/or stunned until they are killed. In the 10 man version of the encounter, the main concern here is making sure the longest duration stuns/slows are used first, to prevent short-duration abilities from creating a situation where the add is still alive and can no longer be stunned or slowed due to the diminishing returns on such abilities.
Phase "4" (repeat of 2 but more spirits) locations
Phase "5" (repeat of 3 but more shit)
Note: JFM after 20 seconds into P5.